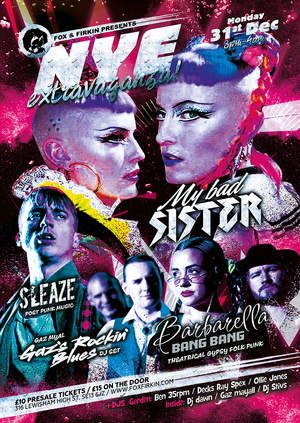 Fox N.Y.E Extravaganza!
31st Dec 2018 8pm - 4am
Add to Calendar
Event Details
COME PARTY WITH US!
Non stop great music and entertainment all night long til 4AM! Lets say goodbye to 2018 and welcome the new year 2019!

LIVE ACTS ON THE NIGHT WILL BE:

SLEAZE - The brainchild and long term project of Camberwell survivor Dave Ashby. Brewing from the ever-growing South London scene, Sleaze capture the sound of frustration every man, woman and child feels towards our country's repulsive politicians, imploding economy and bacterial gastro-pubs.



BARBARELLA'S BANG BANG: 'Avant-Garde, European, Gypsy Folk and Punk.' Best known for their raucous live sets, the band fronted by the enigmatic Barbara Pugliese have become a staple of various festivals and club nights over the course of their career. With members originating from Italy, Latvia and London, it's no surprise Barbarella's Bang Bang have such a diverse and multicultural group of influences from South and East European Folk to classical punk rock. https://www.youtube.com/watch?v=Hh1MVPCXyHU&feature=youtu.be



MY BAD SISTER: Love to rave, shave and misbehave! A CAB A RAVE is the name of our game! http://mybadsister.com/watch-your-style/ We are My Bad Sister, east London born identical twins repin the underground.
We sing, we rap, we dance, we rave and we've been on stage most of lives.Come to our gigs and witness a cabarave
Knottybass/jungle/dnb/tekno/hiphop/garage/bass!


and DJS on the night...

inside:
DJ DAWN:
GAZ MAYALL:
DJ STIVS

Garden:
BEN 35rpm
DECKS RAY SPEX
OLLIE JONES

8pm- 4am / £10 pre-sale tickets or 15 on the door!