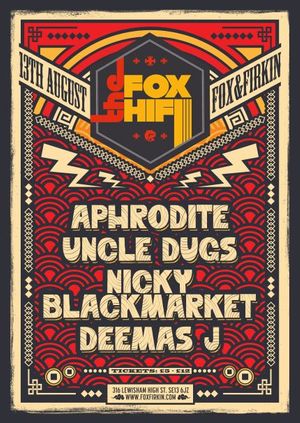 APHRODITE // NICKY BLACKMARKET // UNCLE DUGS // DEEMAS J
13th Aug 2021 8pm - 3am
Add to Calendar
Event Details
LINEUP

DJ APHRODITE
NICKY BLACKMARKET
UNCLE DUGS
BLACKEYE MC
DEEMAS
DJ Aphrodite
DJ Aphrodite has been a mainstay of the Worldwide Rave Scene since the early nineties. For each country around the world with a Drum & Bass scenes, DJ Aphrodite has produced anthems. 'Ganja Man', 'King Of The Beats', 'Style From The Darkside', 'All Over Me', 'Summer Breeze', 'Dub Moods' and 'Stalker' from the infamous record shop scene in movie 'Human Traffic', ' Mash Up You Know', 'Booyaa' and 'We Enter', to name just a few solo compositions have all graced Junglist and DnB playlists everywhere.
Starting with Urban Shakedown and together producing the huge rave anthem 'Some Justice' Aphrodite became a prolific producer being an integral part of creating a string of Jungle and Drum & Bass Classics of which more than a dozen had UK and European mainstream chart success. Throughout the millennium Aphrodite's Artist and DJ Mix albums notched up half a million sales worldwide and his popularity as one of the world's Drum & Bass icons was forged with consistent performances and now delivering multiple 4-deck mixing to all crowds be them 30,000 or 300 strong.
Nicky Blackmarket
Nicky Blackmarket is one of the original pioneers of drum and bass, and he is still the most faithful soldier for the scene around the world. His early influences came from his mother's background in the jazz scene, and it is improvisation and variety that characterise his DJ performances throughout his career.
In the mid-nineties Nicky pushed the hardcore scene with a regular show on Pulse FM and performances at the Roller Express. He moved into production, making his first record "Spam EP", along with various remixes and releases on his label Gyroscope Records. He hosted shows on Eruption FM and started the label 'Kartoons' featuring the anthem 'Two Degrees', confirming his status as a central force in the scene.
Uncle Dugs (UK Jungle Set)
Award winning Jungle / DnB DJ, Promoter and Author originally from Dagenham, Essex.
Dugs (as he is more commonly known) started his DJ career back in 1991 with his first pirate radio show in January 1995 on a local station called Conflict FM (89.4 then 88.4).
Went on to host radio shows on many stations most notably including Kool FM 2006-2011) and Rinse FM 199-2006 / 2011-present) as both a pirate and licensed station.

Blackeye MC
Blackeye MC has been crafting his hosting skills on the circuit from an early age, developing his skills with his local contingent, Lab Creation.
Heavily influenced by hip hop, Pop, funk, soul, jazz and reggae and dub, Blackeye MC uses his knowledge of music to craft his art. Blackeye MC exudes presence enough to touch the music with his deep, soulful tones. This is a Master of Ceremony that works with the music, deftly complimenting rhythm and sound whilst being the go to person as the voice throughout the night.
Resident at Rupture, Tech:nology, Fizzy Liquid, Launch, Function Records, AKO to name a few. These prime residencies unlocked opportunities to play at the legendary Hardware, Cylon recordings, Mute.ch, SunandBass and many other nights up and down the country hosting for a wealth of the scene's pioneers.
Deemas J
Deemas J is known for his Reggae and Drum and Bass style and is also a prominent figure in the Garage and House circuit. Primarily known as an MC, he has also become an established vocalist, recording everything from Funk, Drum and Bass to Reggae music. After Wrongtom's release, 'Duppy Writer' with Roots Manuva, Wrongtom collaborated with Deemas J for his next album, 'Wrongtom meets Deemas J in East London' which garnered 4 to 5 star ratings in Q Magazine, Mojo, Rolling Stone and others. He works alongside sound systems such as Unit 137, Reggae Roast and Solution Sound, as well as artists such as Manudigital, Daddy G (Massive Attack), Nicky Blackmarket, Ras Kwame, DJ Shepdog (Nice Up records), Count Skylarkin', Don Letts, Pied Piper, EZ, Kenny Ken, Tenoshi, Sleepy Time Ghost, Hylu (Unit 137) and more. His songs have been remixed by artists such as Ed Solo, Wickaman, Benny Page and Mo'Matic.
You can catch Deemas J performing with Manudigital at Notting Hill Carnival every year. He also features at many other British, Irish and European festivals such as Electric Picnic in Ireland, Boomtown, Guernsey and Meet the Beats in Germany.
TICKETS
£5 - Early Bird
£7 - 1st Release
£10 2nd Release
£12 - £15 OTD
Disclaimer: We can't wait to welcome you back through our doors, but as we all know, this will only be possible when Government guidelines say it is safe to do so. Any tickets bought for our events will be refundable or transferable to future dates if we have to postpone or cancel due to lockdown restrictions.