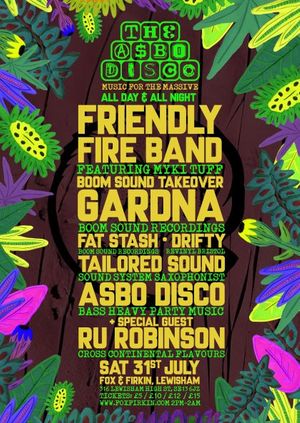 The ASBO Disco | Music For The Massive
31st Jul 2021 12pm - 2am
Add to Calendar
Event Details
Flying the flag loud and proud for underground music, The ASBO Disco brings a gang of his worst offenders along for an all day and all night assault on Lewisham. Specialist selectors play through the best of everything Latin, Jungle, Hip Hop, Reggae and Dancehall, and the headline shows are sizzling.

LINEUP
FRIENDLY FIRE BAND & MYKI TUFF
Birmingham's #1 Reggae Dancehall Band
https://www.youtube.com/user/robin14c
BOOM SOUND RECORDINGS TAKEOVER:
GARDNA
The Bristol MC on a Dubwise Tip
Back in the Day https://youtu.be/-ehw-bUuj_M
GTNALT https://youtu.be/SMYlc_VmHwg
Rudeboy https://youtu.be/ybooqZUKN_I
FAT STASH
In a Dub style
TAILORED SOUND
Playing live saxophone
DRIFTY
Bristol music, built for the baile
ASBO DISCO
Bass heavy party music
+ Special Guest
RU ROBINSON
Flavours of Latin America, Africa and the Caribbean
____________________________________________
All day and all night
Saturday 31st July
Fox & Firkin
316 Lewisham High Street. SE13 6JZ
Advance tickets: £5 / £10 / £12 / £15
Disclaimer: We can't wait to welcome you back through our doors, but as we all know, this will only be possible when Government guidelines say it is safe to do so. Any tickets bought for our events will be refundable or transferable to future dates if we have to postpone or cancel due to lockdown restrictions.