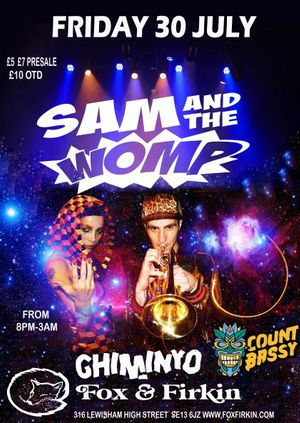 SAM & THE WOMP // CHIMINYO // COUNT BASSY
30th Jul 2021 8pm - 3am
Add to Calendar
2021-07-30 20:00:00
2021-07-31 03:00:00
Europe/London
SAM & THE WOMP // CHIMINYO // COUNT BASSY
With a huge brassy sound, grooving drums and infectious Womping, multi-platinum selling and Number One UK band Sam & The Womp bass Sam and the Womp proritize the party with their unique blend of trumpet driven dance music. Since international chart success Sam and the Womp have been slamming dancefloors all over the world including at Glastonbury Festival and Wembley Area, sharing the bill with the likes of Dizzee Rascal, MIA and Rudimental... So expect a massive brass and dance explosion when this festival favorite act lands at the Fox & Firkin!Also on the bill we have the fantastic Chiminyo: Combining the raw, immediate live sound of percussion and the futuristic timbres of his electronic productions, Chiminyo creates his own, daring sound via laboriously self-coded software. Each cymbal crash and drum hit triggers a synth or sample, allowing Chiminyo complete control and freeing him of all loops, click-tracks and backing tracks.To top it all off the bass daddy Count Bassy will take to the decks and rock the party into the early hours. If you can't wait to dance your socks off when the world opens up again this night is not to be missed!!! LINEUP:Sam & The Womphttps://www.youtube.com/watch?v=Qsy7kJyizocChiminyohttps://youtu.be/t9KYGzrKGkgCount Bassyhttps://countbassy.com/TICKETS:Advance Tickets: £5 / £7 £10 OTDGroup discounts also available! https://foxandfirkin.eventcube.io/events/32580/sam-the-womp-chiminyo-count-bassy
Fox and Firkin, 316 Lewisham High Street, London, SE13 6JZ
Event Details
With a huge brassy sound, grooving drums and infectious Womping, multi-platinum selling and Number One UK band Sam & The Womp bass Sam and the Womp proritize the party with their unique blend of trumpet driven dance music.
Since international chart success Sam and the Womp have been slamming dancefloors all over the world including at Glastonbury Festival and Wembley Area, sharing the bill with the likes of Dizzee Rascal, MIA and Rudimental... So expect a massive brass and dance explosion when this festival favorite act lands at the Fox & Firkin!
Also on the bill we have the fantastic Chiminyo: Combining the raw, immediate live sound of percussion and the futuristic timbres of his electronic productions, Chiminyo creates his own, daring sound via laboriously self-coded software. Each cymbal crash and drum hit triggers a synth or sample, allowing Chiminyo complete control and freeing him of all loops, click-tracks and backing tracks.
To top it all off the bass daddy Count Bassy will take to the decks and rock the party into the early hours. If you can't wait to dance your socks off when the world opens up again this night is not to be missed!!!
LINEUP:
Sam & The Womp
https://www.youtube.com/watch?v=Qsy7kJyizoc
Chiminyo
https://youtu.be/t9KYGzrKGkg
Count Bassy
https://countbassy.com/
TICKETS:
Advance Tickets: £5 / £7
£10 OTD
Group discounts also available!