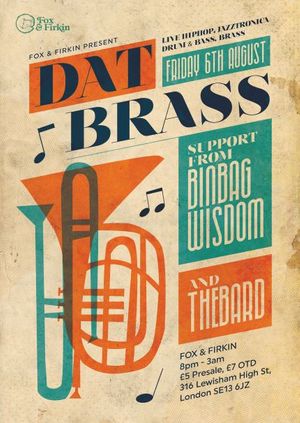 DAT BRASS // BINBAG WISDOM // THE BARD
6th Aug 2021 8pm - 3am
Add to Calendar
Event Details
Dat Brass: (Brass band/Jazztronica/Hiphop/Dnb)
dB cut their teeth in the mud UK festival circuit and on the sticky floors of London clubs, evolving into a turbo-charged 10-piece hip-hop jazztronica outfit playing reflective originals that show off the best in drum and brass. They rep an unholy number of horns on the front line, backed up by the tightest scratch DJ, sousaphone and drum rhythm section this side of the millennium. Every tune is layered with breathless improvisation, meaning dB have built a big reputation as pioneers of one of the freshest sounds London has to offer. They've opened up the Truth Stage at Glasto, sold out a hometown headline show at Jazz Cafe and supported the likes of Roni Size, Plastician, and DJ Yoda.
They've just released their self-titled debut album, a distillation of their sound, packed with features and solos from the crew.
Binbag Wisdom: (Hiphop/Funk/Festival)
Bin Bag Wisdom make golden-era Hip Hop that is transformed into clever modern-day observations on society, simultaneously abstract and astute. Driven by the towering delivery of Mc Binbags these guys never fail to get the crowd jumping, and yet there music enters realms much deeper than purely party music.
With intelligent rhymes and a rare knack of being both self assured and self-deprecating their music is equally as powerful when kicking back in the armchair and absorbing their witty realism. Essentially Binbag Wisdom achieve what so much modern rap doesn't – original, insightful, playful and banging!
The Bard: (Ghetto Funk/Soul/HipHop/Disco)
Swingin' Funky beats you can't help but groove to!