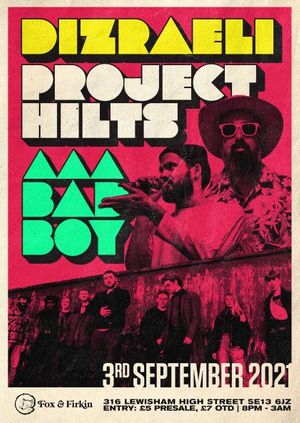 Dizraeli // Project Hilts // AAA Badboy
3rd Sep 2021 8pm - 3am
Add to Calendar
2021-09-03 20:00:00
2021-09-04 03:00:00
Europe/London
Dizraeli // Project Hilts // AAA Badboy
Line up:Dizraeli Project HiltsAAA BadboyDizraeliPoet, producer, firestarter. Songwriter-MC, multi-instrumentalist-raconteur… Dizraeli is a genre of his own. From building a frenzied underground following with his first band Bad Science (1999-2008), through to his debut solo album Engurland (City Shanties) dropping in 2009 and then on to tour the world and record the acclaimed Moving In The Dark with Dizraeli and The Small Gods, on the way collaborating with artists as diverse as Kae Tempest, Jam Baxter and Eliza Carthy in his explorations of the crossover between hiphop, folk, bass music and all between…and most recently releasing his solo masterpiece The Unmaster, nominated for Album of the Year by Gilles Peterson in the 2020 Worldwide Awards… Diz has always forged his own way.His unswerving devotion to pushing the boundaries of lyricism and musical form has earned him a bona fide cult status among those who know, and the raw honesty and humour he brings to his writings on his own mental health, sexuality and the liberation of the human spirit has drawn people together of all shades and ages around his work.Project HiltsProject Hilts is an eight-piece collective from London/Leeds. Their sets are energetic and danceable whilst displaying virtuosic musicianship and challenging songwriting. The band consists of three vocalists, drums, percussion, two brass players and keys from a range of different backgrounds and disciplines who come together to marry Jazz Musicianship with styles and influences from early 00's Grime, Latin, Soul and Hip Hop.Since forming in early 2019 they've supported bands such as Submotion Orchestra, Tetes Des Pois and Too Many Zoos and have been hugely present in the Leeds Jazz scene, selling out their headline shows in May and December, as well as performing all over the UK in London, Sheffield and Liverpool.AAA BadboyPerhaps best known as one of the musical minds behind Boomtown but Kaptin aka AAA Badboy is a seasoned veteran with a killer selection that has no barriers.  He's had various other aliases that have seen him have radio play on BBC Radio 1 and 1Xtra amongst others and has been packing out festival stages around the world for nearly 20 years, hence his most recent moniker, named after the much coveted Access All Areas pass. "His kaleidascopic knowledge of music leaves me in awe. In 30 years of working on thousands of gigs and 10 , 000 artists, I never came across anyone with such a mixture of musical knowledge across so many genres" - Chris Tofu  https://foxandfirkin.eventcube.io/events/33247/dizraeli-project-hilts-aaa-badboy
Fox and Firkin, 316 Lewisham High Street, London, SE13 6JZ
Event Details
Line up:
Dizraeli
Project Hilts
AAA Badboy
Dizraeli
Poet, producer, firestarter. Songwriter-MC, multi-instrumentalist-raconteur… Dizraeli is a genre of his own. From building a frenzied underground following with his first band Bad Science (1999-2008), through to his debut solo album Engurland (City Shanties) dropping in 2009 and then on to tour the world and record the acclaimed Moving In The Dark with Dizraeli and The Small Gods, on the way collaborating with artists as diverse as Kae Tempest, Jam Baxter and Eliza Carthy in his explorations of the crossover between hiphop, folk, bass music and all between…and most recently releasing his solo masterpiece The Unmaster, nominated for Album of the Year by Gilles Peterson in the 2020 Worldwide Awards… Diz has always forged his own way.
His unswerving devotion to pushing the boundaries of lyricism and musical form has earned him a bona fide cult status among those who know, and the raw honesty and humour he brings to his writings on his own mental health, sexuality and the liberation of the human spirit has drawn people together of all shades and ages around his work.
Project Hilts
Project Hilts is an eight-piece collective from London/Leeds. Their sets are energetic and danceable whilst displaying virtuosic musicianship and challenging songwriting. The band consists of three vocalists, drums, percussion, two brass players and keys from a range of different backgrounds and disciplines who come together to marry Jazz Musicianship with styles and influences from early 00's Grime, Latin, Soul and Hip Hop.
Since forming in early 2019 they've supported bands such as Submotion Orchestra, Tetes Des Pois and Too Many Zoos and have been hugely present in the Leeds Jazz scene, selling out their headline shows in May and December, as well as performing all over the UK in London, Sheffield and Liverpool.
AAA Badboy
Perhaps best known as one of the musical minds behind Boomtown but Kaptin aka AAA Badboy is a seasoned veteran with a killer selection that has no barriers. He's had various other aliases that have seen him have radio play on BBC Radio 1 and 1Xtra amongst others and has been packing out festival stages around the world for nearly 20 years, hence his most recent moniker, named after the much coveted Access All Areas pass.
"His kaleidascopic knowledge of music leaves me in awe. In 30 years of working on thousands of gigs and 10 , 000 artists, I never came across anyone with such a mixture of musical knowledge across so many genres" - Chris Tofu