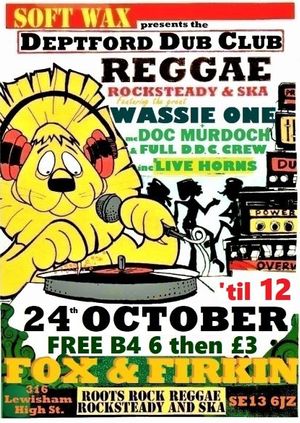 Deptford Dub Club: Wassie One Special
24th Oct 2021 2pm - 11pm
Add to Calendar
Event Details
We will entertain you with music of Jamaican origin of the highest order. From Ska, through Rocksteady, to classic Roots and on to contemporary Steppers. All spun in traditional Soundsystem style, with live vocals, instrumentation and effects!
LINE UP:
Wassie One
Soft Wax
Doc Murdoch
Sandeva
Wild Will
Duppy Sista Sound
Free before 6pm, £3 after

More details below...
We're thrilled that our headliner for this edition of The Deptford Dub Club is the
great Wassie One. Wassie is a long-time stalwart of the London Roots Reggae
scene and always plays up a storm. Whether in a full, traditional Soundsystem contexts, or in club environments, he can be relied upon to produce the goods.
.
.
The mighty Wassie spins a rich and wide spectrum of music of Jamaican origin, from Ska and Rocksteady "Gram Favourites", to the hardest Roots Reggae. You can check him on
his last show at the Dub Club:
https://www.youtube.com/watch?v=FWyBOoi_9DM&t=910s
or on the radio, or on his website:
http://www.venturefm.co.uk/
www.wassieone.co.uk/
.
.
Also featured on the decks will be resident selector Soft Wax. He'll be playing a set accompanied by the usual Deptford Dub Club crew. Expect the great Singjay artist, Doc Murdoch and the fabulous Sandeva, on live vocals. Plus a full horn section, led by trumpeter Wild Will live and direct, on the mic.
.
.
We're looking forward to an early set from Duppy Sista Sound, especially after their triumphant return in August. Expect some carefully selected, vintage, classics, from these young Dub Club stalwarts.