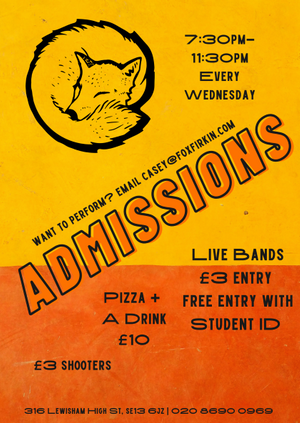 ADMISSIONS - *NEW* Emerging Artist Night
6th Oct 2021 7:30pm - 11:30pm
Add to Calendar
2021-10-06 19:30:00
2021-10-06 23:30:00
Europe/London
ADMISSIONS - *NEW* Emerging Artist Night
Admissions is a weekly event curated to support and uplift emerging, underground and even student musicians. With free entry for students and cheap deals it's a great spot to network with various people as well as showcase any current projects you're working on.Fox & Firkin is located in the heart of Lewisham and is a home for live underground music, bringing a stellar cast of live acts, with an eclectic variety of sounds. Punk, rave, reggae, ska, swing, bedroom pop and everything in between.LINE UP:Jelly Cleaverhttps://www.youtube.com/watch?v=Kg7ZK2OxHiwNIAhttps://open.spotify.com/album/7iN90eH9qBDRnaFuyyWNyxMOON BALLOONhttps://open.spotify.com/artist/3xVI0gIpNppHLMNwe0Pq1b More TBA!********************Deals:*********************Free entry with a valid student ID£3 tickets otherwiseA drink and a pizza for £10 (vegan option available)£3 shootersIf you'd like to perform at a future Admissions event please email casey@foxfirkin.com with your EPK. https://foxandfirkin.eventcube.io/events/34918/admissions-new-emerging-artist-night
Fox and Firkin, 316 Lewisham High Street, London, SE13 6JZ
Event Details
Admissions is a weekly event curated to support and uplift emerging, underground and even student musicians. With free entry for students and cheap deals it's a great spot to network with various people as well as showcase any current projects you're working on.
Fox & Firkin is located in the heart of Lewisham and is a home for live underground music, bringing a stellar cast of live acts, with an eclectic variety of sounds. Punk, rave, reggae, ska, swing, bedroom pop and everything in between.
LINE UP:
Jelly Cleaver
https://www.youtube.com/watch?v=Kg7ZK2OxHiw
NIA
https://open.spotify.com/album/7iN90eH9qBDRnaFuyyWNyx
MOON BALLOON
https://open.spotify.com/artist/3xVI0gIpNppHLMNwe0Pq1b

More TBA!
********************Deals:*********************
Free entry with a valid student ID
£3 tickets otherwise
A drink and a pizza for £10 (vegan option available)
£3 shooters
If you'd like to perform at a future Admissions event please email casey@foxfirkin.com with your EPK.