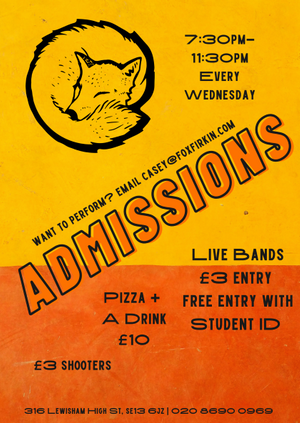 ADMISSIONS - *NEW* Emerging Artist Night
20th Oct 2021 7:30pm - 11:30pm
Add to Calendar
2021-10-20 19:30:00
2021-10-20 23:30:00
Europe/London
ADMISSIONS - *NEW* Emerging Artist Night
Admissions is a weekly event curated to support and uplift emerging, underground and even student musicians. With free entry for students and cheap deals it's a great spot to network with various people as well as showcase any current projects you're working on.Fox & Firkin is located in the heart of Lewisham and is a home for live underground music, bringing a stellar cast of live acts, with an eclectic variety of sounds. Punk, rave, reggae, ska, swing, bedroom pop and everything in between.LINE UP:WESLEY BENNETThttps://open.spotify.com/album/2xBivAGnFYUaj343wCvvs5?si=9lvzqyzPSlSzp5NYNfRQOg&dl_branch=1&fbclid=IwAR0qllVHQlw2t-H-P6l7oqr9ABVCdcfVbpxmSOrbz03-xIXrXYrOVCuKC7M&nd=1 OSCAR ROCHEhttps://open.spotify.com/artist/7Cml6Zjli1Dd6ZekDpeUIVALIEN CHICKSAlien Chicks are an alternative punk power trio based in Brixton. Their original songs are a surrealist storytelling of modern Britain, packing a punch with social commentary and emotive chord progressions, punctuated with powerful rhythms and eclectic time signatures. Their youthful charisma and humour make for a fiery and energetic live show that you won't forget.https://soundcloud.app.goo.gl/JVsLanzA1j9whUtC9HEADBOYBirthed during lockdown and now let loose, Headboy - a north London based band - made their debut at The Windmill in May as part of the Doc Martens Come Back Better initiative. The trio have continued making waves with a sound that's shoegazer-come-grunge plus a dash of punky angst.https://www.instagram.com/headboyband/MORE TBA!********************Deals:*********************Free entry with a valid student ID£3 tickets otherwiseA drink and a pizza for £10 (vegan option available)£3 shootersIf you'd like to perform at a future Admissions event please email casey@foxfirkin.com with your EPK. https://foxandfirkin.eventcube.io/events/34920/admissions-new-emerging-artist-night
Fox and Firkin, 316 Lewisham High Street, London, SE13 6JZ
Event Details
Admissions is a weekly event curated to support and uplift emerging, underground and even student musicians. With free entry for students and cheap deals it's a great spot to network with various people as well as showcase any current projects you're working on.
Fox & Firkin is located in the heart of Lewisham and is a home for live underground music, bringing a stellar cast of live acts, with an eclectic variety of sounds. Punk, rave, reggae, ska, swing, bedroom pop and everything in between.
LINE UP:
WESLEY BENNETT

https://open.spotify.com/album/2xBivAGnFYUaj343wCvvs5?si=9lvzqyzPSlSzp5NYNfRQOg&dl_branch=1&fbclid=IwAR0qllVHQlw2t-H-P6l7oqr9ABVCdcfVbpxmSOrbz03-xIXrXYrOVCuKC7M&nd=1
OSCAR ROCHE
https://open.spotify.com/artist/7Cml6Zjli1Dd6ZekDpeUIV
ALIEN CHICKS
Alien Chicks are an alternative punk power trio based in Brixton. Their original songs are a surrealist storytelling of modern Britain, packing a punch with social commentary and emotive chord progressions, punctuated with powerful rhythms and eclectic time signatures. Their youthful charisma and humour make for a fiery and energetic live show that you won't forget.

https://soundcloud.app.goo.gl/JVsLanzA1j9whUtC9

HEADBOY
Birthed during lockdown and now let loose, Headboy - a north London based band - made their debut at The Windmill in May as part of the Doc Martens Come Back Better initiative. The trio have continued making waves with a sound that's shoegazer-come-grunge plus a dash of punky angst.
https://www.instagram.com/headboyband/
MORE TBA!
********************Deals:*********************
Free entry with a valid student ID
£3 tickets otherwise
A drink and a pizza for £10 (vegan option available)
£3 shooters
If you'd like to perform at a future Admissions event please email casey@foxfirkin.com with your EPK.