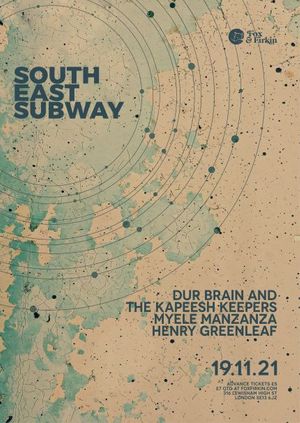 SOUTH EAST SUBWAY w/ Dur Brain & the Kapeesh Keepers, Myele Manzanza, Henry Greenleaf
19th Nov 2021 8pm - 3am
Add to Calendar
Event Details
South East Subway is back at the Fox; a night dedicated to neo-soul, jazz fusion, hiphop & electronica offering a platform for new emerging artists in the S/E London scene alongside some of the bigger names in the industry.

World-renowned drummer/composer and producer/beatmaker, Myele Manzanza, has proved that he's an artist who continues to dissolve the borders between modern jazz and electronic beat production. Having released three solo albums, and racking up tours and collaborations with Jordan Rakei, Theo Parrish, Miguel Atwood-Ferguson,
Recloose and Amp Fiddler amongst others. Myele is already developing a strong live presence in his new London base; his quartet has shared stages with the likes of Hiatus Kaiyote, The Bad Plus, Alfa Mist, and drawing packed houses to top venues such as The Jazz Café and Ronnie Scott's.
Dur Brain and the Kapeesh Keepers are a box-fresh Bristol supergroup, bringing you the deadliest rabid jazz and hip hop. Featuring mega talented players from Snazzback, Waldos Gift, RWKUS, and Binbag Wisdom. Join them on an expedition of soulful, laid back, golden era grooves, all the way to dirty 140bpm bangers.
Henry Greenleaf has developed a proficiency for melding the light and the dark within his energetic productions. Stylistically amorphous, with tracks spinning from his intensely hectic and unpredictable rhythms to surprising emotional heights in his synth-scape breakdowns. With an incredible emphasis on sound design, his music frequently contrasts the immense scale of cinema drama with moments of sparse microscopic detail. With releases on ARTS, Version & Par Avion as well as forthcoming projects with Redstone Press & YUKU his multimedia work truly showcases his attention to detail. His blistering sound design, fractured visuals and larger than life beats can challenge and disrupt, as much as the environments and soundscapes he creates can soothe.
Romaal Kultan plays groovy music. He makes groovy music too, with releases on Dr Banana, Tiff's Joints and YAM, and shortly a new record label of his own too. Sometimes he plays the groovy music that he makes. But mostly he plays groovy music that other people make.

————Set Times————
21:00 - 22:30 Romaal Kultan
22:30 - 23:30 Myele Manzanza
23:30 - 00:00 Henry Greenleaf
00:00 - 01:00 Dur Brain and the Kapeesh Keepers
01:00 - 03:00 Henry Greenleaf
———–Tickets————

£5 Advance
£7 OTD
———–Venue————
18+ No ID, No Entry
Getting there;
Closest train station: Ladywell (5 min walk) or Lewisham (15 min walk)
316 Lewisham High St, London SE13 6JZ