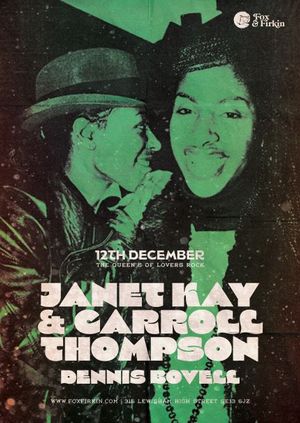 Fox & Firkin Presents Lovers Rock featuring Janet Kay and Carroll Thompson
12th Dec 2021 8pm - 12am
Add to Calendar
Event Details
Queens of Lovers Rock Janet Kay and Carroll Thompson will be here live at the Fox & Firkin December 12th joined by some extra special guests!
Janet Kay, winning her many friends and fans around the world with her songs, 'Silly Games' and 'Lovin' You', have reached anthemic heights, on this side and the other side of the globe.
In 1979, Janet made history by becoming the 'First British born Black Female Reggae Artist to have a No. 1 in the British Pop Charts' - Music Guinness Book of Records. The song 'Silly Games', (produced by Dennis Bovell) was a hit not only in the UK but also in Europe.
Carroll Thompson, award-winning singer/songwriter, composer, playwright and author. Her self-penned album 'Hopelessly in Love' the best selling UK Lovers Rock album, achieved classic and Iconic status within the music industry.
Carroll has arranged & provided vocals for; Michael Jackson, Stevie Wonder, Sade, Petshop Boys, Natalie Cole, B.B. King, Chaka Khan, M People, Eric Clapton, Art Blakey, Jools Holland, Kylie Minogue, Billy Ocean, Boy George, Annie Lennox, Awad, Maxi Priest and UB40.
Her musical achievements are currently being collated by the Jamaican government as part of the UNESCO cultural global heritage initiative for the protection & recognition of Reggae music
———–Venue————
18+ No ID, No Entry
Getting there;
Closest train station: Ladywell (5 min walk) or Lewisham (15 min walk)
316 Lewish
m High St, London SE13 6JZ