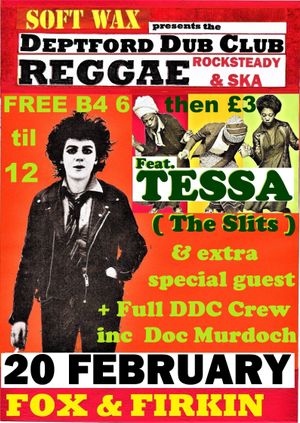 Deptford Dub Club: Tessa (The Slits) Special
20th Feb 2022 6pm - 12am
Add to Calendar
2022-02-20 18:00:00
2022-02-21 00:00:00
Europe/London
Deptford Dub Club: Tessa (The Slits) Special
For February The Deptford Dub Club features a feast of talent, headlined by Tessa Pollitt (The Slits). She'll be spinning 100% Roots and Culture Reggae in Soundsystem style. We expect that she'll be accompanied by a very specially guest. We're remaining shtum about the identity of this luminary, at their request. So it's a suck it and see situation. Another of our amigos, Ras Danny Mosiah, will also be putting the needle to the groove on the wheels of steel to close the show. Resident Soft Wax will also be spinning, to warm proceedings up.There will be the usual instrumental and vocal accompaniments, live  and direct on the mic., throughout the evening. Our resident singjay, the mighty Doc Murdoch and special guest Sandeva, will adding vocals to the mix. We will have fresh live instrumentation, from a new horns crew, with Waxy on SoundFX during Tessa's set.Rocksteady will be playing all afternoon in the glorious garden. So reach early, we'll be moving indoors and warming up the big, deep and full dub machine from 6 and running through til midnight. Skanking is a feature of this night in a convivial boozer, so put on your dancing shoes. We expect a road block. https://foxandfirkin.eventcube.io/events/37704/deptford-dub-club-tessa-the-slits-special
Fox and Firkin, 316 Lewisham High Street, London, SE13 6JZ
Event Details
For February The Deptford Dub Club features a feast of talent, headlined by Tessa Pollitt (The Slits). She'll be spinning 100% Roots and Culture Reggae in Soundsystem style.
We expect that she'll be accompanied by a very specially guest. We're remaining shtum about the identity of this luminary, at their request. So it's a suck it and see situation.
Another of our amigos, Ras Danny Mosiah, will also be putting the needle to the groove on the wheels of steel to close the show. Resident Soft Wax will also be spinning, to warm proceedings up.
There will be the usual instrumental and vocal accompaniments, live and direct on the mic., throughout the evening. Our resident singjay, the mighty Doc Murdoch and special guest Sandeva, will adding vocals to the mix. We will have fresh live instrumentation, from a new horns crew, with Waxy on SoundFX during Tessa's set.
Rocksteady will be playing all afternoon in the glorious garden. So reach early, we'll be moving indoors and warming up the big, deep and full dub machine from 6 and running through til midnight. Skanking is a feature of this night in a convivial boozer, so put on your dancing shoes. We expect a road block.