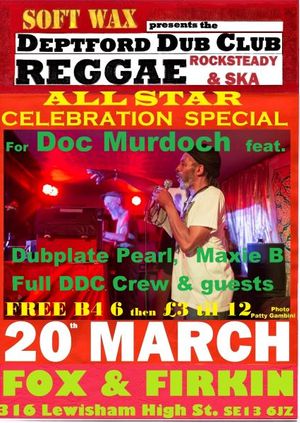 Deptford Dub Club: Doc Murdoch Special
20th Mar 2022 6pm - 11:59pm
Add to Calendar
Event Details
This month Dub Club marks several special events in the life of our esteemed front man, the mighty Doc Murdoch; so we're giving this session over to an All-Star celebration of the great man's reggaematic works.
As Club regulars will know the Doc has been our resident Singjay for some years now. He is the regular MC at the weekly Vinyl Meltdown events too. He is also a pivotal member of The Bassie collective, who have appeared at various prestigious London venues, such as The Social, in the West End: https://www.youtube.com/watch?v=t1ziEvzOZYA
A fist full of our regular, star selectors will be along to celebrate Doc Murdoch, including Dubplate Pearl. Pearl is a well-respected fixture on the London reggae scene. You name a venue where memorable ravin' happened and Pearl's probably played there. She's spun in combination with most selector's you could mention too. Currently she's probably best known for her highly convivial Camberwell Connection events. Pearl is a great friend of the D.D.C. and has been since its inception.
Also gracing our bill for this special event, we welcome Maxie B.. Maxyne is also a well-established figure on the London reggae scene and a regular at The Flower of Kent and Telegraph. As listeners to her regular radio show will know, Maxie has broad taste in music of Jamaican origin and we can certainly expect some on-point Lovers Rock as part of her in-put into this session.
Doc Murdoch is the long term spar of our resident selector Soft Wax. Mr. Wax has been selecting for diverse audiences, for longer than he cares to remember, having spun all over the UK and across the Herring Pond. Tonight Waxy and the good Doctor will be concentrating on what they do best, blending Roots Reggae, with Rocksteady and Ska, supplemented with live vocal in-put that keeps it blisteringly real.
As is traditional at Deptford Dub Club, our selectors will be supplemented on the night with guest vocalists and instrumentalists live and direct on the mic. ( t.b.c..) Plus the mighty Prince Fatty will be mixing live on the desk throughout the evening, ensuring a full and rich sound from the mighty rig. As befits such an occasion, many of the star selectors who've worked with Doc will be in the house, expect many Faces and PA's.
About the venue:
Rocksteady will be playing all afternoon, in the glorious garden, at The Fox. We'll be stoking up the new set inside from 6 ( this will be piped out into the garden too.) It's free until 6 and £3 thereafter. Please note that all our regular Sunday sessions now continue until at least 12. Come on down, put on your dancing shoes and surrender