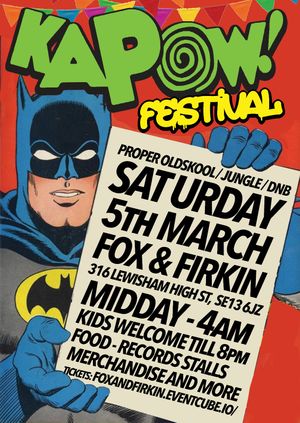 KAPOW! FESTIVAL
5th Mar 2022 12pm - 4am
Add to Calendar
Event Details
Kapow! Was born Friday May 15th 2015 at the Rhythm Factory in Whitechapel with DJ Randall headlining. The mission statement: Themed Parties… Strictly underground music… Rolling beats… Promoted by two ravers with pedigrees going back to the late 80s (Raindance/Jungle Fever/Deepah). After taking time-out to save the world Kapow is back but BIGGER and even more BADASS than before. Behold as we team up with Agent Squires and current jungle rave rig Deeper Sounds to transform South London's legendary Fox and Firkin into Gotham City… from MIDDAY UNTIL 4AM…for the launch of…KAPOW! FESTIVAL!
SECRET GUESTS & HEADLINER TBA / BILLY DANIEL BUNTER / DEVIOUS / RUDEBOY D / SKYZ B2B SYSTEM ERROR / G.MAGIKAL / OFFSPRING / DUTCHI B2B LADY NIKI / GPS / HYNZE / MASSIVE / PRESSA
DAYTIME RAVE MARKET, RECORD STALLS & MERCH
HUGE HEATED & COVERED SECRET GARDEN
KIDS GO FREE UNTIL 8PM
ADULTS UNTIL 4AM
KIDS SUPERHERO FANCY DRESS
BUBBLES / FUN / GAMES / FACE PAINTING & ART ATTACK
2 FULLY STOCKED BARS
HEAVY SOUND SYSTEMS
PIZZAS & CARIBBEAN BBQ
GOTHAM THEMED DECOR
LASERS, SMOKE MACHINES
EPIC LIGHTING RIG & PROJECTIONS
Powered by Noise Control Audio and Deeper Sounds
"No miracles. No mercy. No redemption. No heaven. No hell. No Higher Power. Just life, just…us…" Get your tickets before it's too late… and "let the games begin!"
Adult Daytime Ticket £5
Adult Evening Ticket £10
Combo Ticket £12
Ticket Link https://foxandfirkin.eventcube.io/.../37799/kapow-festival/
----------------------
Fox and Firkin
316 Lewisham High St, London SE13 6JZ
Level access throughout, accessible bathroom, the garden has some multi levels to navigate. If you require any further information, requirements or assistance, our friendly staff are here to make your experience fully inclusive. Feel free to call us on 020 8690 0969 or pop us an email via info@foxfirkin.com.
Getting there;
Closest train station: Ladywell (5 min walk) or Lewisham (15 min walk or 5 min bus