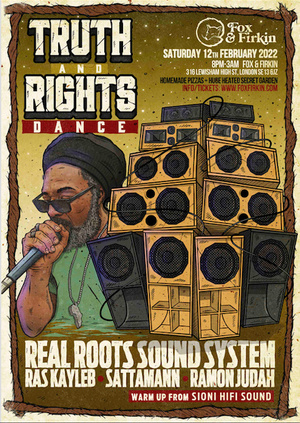 REAL ROOTS SOUND SYSTEM ft. Sattaman, Ras Kayleb & Ramon Judah
12th Feb 2022 8pm - 3am
Add to Calendar
Event Details
Saturday 12th February 2022 8pm-3am
"Truth and Rights Dance"
Real Roots Sound System
Ras Kayleb
Sattamann
Ramon Judah
warm up from
Sioni HiFi Sound
Full Sound System
Roots and Cultural
Strictly Vinyl
All Tribes Welcome
Homemade Pizzas + Huge Heated Secret Garden
Fox and Firkin
316 Lewisham High St, London SE13 6JZ
Info/Tickets:
£4 (entry before 10pm)
£6 (entry before 11pm)
£8 (entry after 11pm)
Real Roots Sound System outta London Town with selection from Sattamann alongside Ras Kayleb at the controls.
With MC Ramon Judah & Ras Kayleb on mic duties.
Real Roots Sound System is a hand built, traditional, preamp and analogue powered sound system.
Expect higher, heartical, positive vibrations, strictly vinyl, strictly roots & culture with a whole load of exclusive dubplates for good measure. Dubwise no comprise.
Warm up comes from Sioni HiFi Sound, aka Juno Q Beat outta Georgia. International sound system pioneer & ambassador, first sound system in Georgia launched in London.