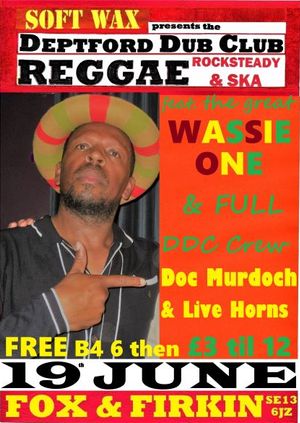 Deptford Dub Club: Wassie One Special
19th Jun 2022 6pm - 12am
Add to Calendar
Event Details
We are pleased and proud to announce that our headliner for The Deptford Dub Club on 19th June is the great Wassie One. Wassie is a long-time stalwart of the London Roots Reggae scene and always plays up a storm. Whether in a full traditional Soundsystem contexts, or in club environments, Wassie can be relied upon to produce the goods. He plays a wide spectrum of music of Jamaican origin, from "Gram Favourites" to the hardest Roots. He's also consistently, highly, entertaining chatting on the mic.. Check him on the radio, or on his website:

We will entertain you with music of Jamaican origin, of the highest order, throughout the night. From Ska, through Rocksteady, to classic Roots and on to contemporary Steppers. All spun in traditional Soundsystem style, with live vocals, instrumentation and effects.
Warm-up selection will come from young lionesses Duppy Sista Sound.  Also earlyish, Club stalwart Natty Nick will be stepping up to grace the decks; expect a carefully chosen selection of classic Ska, Rocksteady and early Reggae. 
 Our Resident Soft Wax will be spinning on the wheels of steel too. He'll be accompanied by our usual live instrumental and vocal stylists. Expect our resident singjay, the mighty Doc Murdoch and other vocalists live and direct t.b.c.. Also on the mic. will be brass instrumentalists, featuring our fresh, new, crew Natty and George.
An enhanced sound system, engineered by the great Prince Fatty, is a feature of this popular night, held in a convivial boozer. The palatial, discrete garden will feature Rocksteady all afternoon and have the evening session piped out to it. Put on your dancing shoes.
Still FREE B4 6 & £3 after