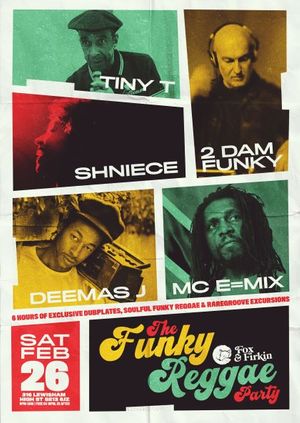 The Funky Reggae Party w/ Tiny T // 2 Dam Funky // Shniece // Deemas J // MC E=MIX
26th Feb 2022 8pm - 3am
Add to Calendar
Event Details
The Funky Reggae Party… A night of funky-soulful reggae... Gonna rock your bone with 7 hours of RegGroove!
Raregroove Connoisseurs and Reggae Connoisseurs (Facebook) present an evening of reggae that hits the sweet spot between Reggae and Raregroove drawing its inspiration from the rich musical heritage of James Brown and soul legends like Marvin Gaye and Curtis Mayfield.
DJ 2 Dam Funky and guest DJ Tiny T of the Mighty Cloudburst will be bringing the funky-soulful reggae selection.
Add a twist of live vocals in the mix from Prince Fatty soulstress Shneice, sprinkle in funky vibes from MC E-Mix and Deemas Jay, blend in exclusive dubplates you won't hear anywhere else and top it off with pumping bass for the funkiest reggae jam this side of Kingston.
In the words of Bob Marley…
It takes a joyful sound
To make the world go round
Come with your heart and soul
Well come-a come-a rock your bone
Yes ya'll, Lewisham's gone funky, Lewisham's got soul –
Mash down Lewisham and see ya'll there for The Funky Reggae Party…
TINY T
2 DAM FUNKY
SHNIECE
DEEMAS J
MC E=MIX
———–Venue————
Fox and Firkin
316 Lewisham High St, London SE13 6JZ
// Homemade Pizzas + Huge Heated Secret Garden

Level access throughout, accessible bathroom, the garden has some multi levels to navigate. If you require any further information, requirements or assistance, our friendly staff are here to make your experience fully inclusive. Feel free to call us on 020 8690 0969 or pop us an email via info@foxfirkin.com.

Getting there;
Closest train station: Ladywell (5 min walk) or Lewisham (15 min walk or 5 min bus)