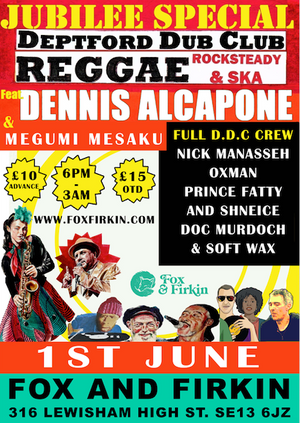 Jubilee Special ft. DENNIS ALCAPONE meets MEGUMI MESAKU + DJ NICK MANASSEH + PRINCE FATTY & SHNEICE + DEPTFORD DUB CLUB
1st Jun 2022 7pm - 2am
Add to Calendar
Event Details
DENNIS ALCAPONE meets MEGUMI MESAKU

+ DJ NICK MANASSEH
+ PRINCE FATTY & SHNEICE
+ DEPTFORD DUB CLUB

-----------------------------
/// DENNIS ALCAPONE FULL LIVE BAND
When people talk about musical originators and foundation artists in reggae there are many names that have contributed to its rich history. One these is Dennis "Alcapone" Smith, whose legacy as one of the first sound systems DJs that made the transition from the dancehall to the studio can only be compared to U-Roy.
Born in Clarendon, Jamaica in 1947, Alcapone's introduction to the music industry came from following and listening to many of the early sound systems in Jamaica, like Duke Reid's Trojan and Coxsone's Downbeat Sound System with early DJs like King Stitt, Sir Lord Comic and Count Machuki.
After moving to Kingston, he started El Paso Hi-Fi sound system with two close friends in 1969. They quickly became the talk of the town for combining great selection with Alcapone's unique style, of combining toasting and singing over classic rocksteady and ska riddims. As Alcapone's reputation spread throughout the island, U-Roy established himself as the Jamaica's No.1 DJ performing with King Tubby's Hi-Fi and releasing singles for both Studio 1 and Treasure Isle Records.
El Paso disbanded the following year and Alcapone took his unique combination of singing and toasting into the studio, recording with producers Keith Hudson, Clement 'Coxsone' Dodd and Winston 'Niney' Holness.
He built on his success and over a two year period he became one the most in-demand artists, recording with all the key producers, releasing hundreds of singles. His delivery combined quick wit and comedy to tackle social issues, like the classics songs, Wake Up Jamaica, Brixton Town Hall and Repatriation Now!! Along with the U-Roy and slightly later Big Youth, Dennis Alcapone was not only part of the first wave of recorded DJs but his trademark style influenced many other artists including Dillinger and Trinity.
Alcapone's success continued throughout the 70s, when he was constantly in Reggae charts in both Jamaica and England, and his popularity was reflected at The Swing Magazine Awards in 1972 when he won the first Most Popular Deejay award. The following year he toured in England for two months and shortly after relocated to London, where he is still based.
Changes in the music scene from the rocksteady DJs of the 70s to the digital riddims and DJs of the 80s encouraged Alcapone to step back from the stage and focus on other commitments. However in 1988 he returned to the scene with a triumphant performance at the WOMAD festival. He has toured consistently over the last twenty years across the world and has continued to release new material, working with The Mad Professor, Bunny Lee, Prince Fatty and Jerry Dammers.
/// MEGUMI MESAKU
The lovely Japanese saxophonist Megumi Mesaku aka Miss Megoo was born in Soma City, Fukushima, but as a child moved to Chiba (next to the Tokyo area) and then relocated to London at the age of 20. As a teenager she fell in love with reggae music and since then she has travelled the world, enticing audiences with her instrumental renditions of reggae classics. Mesaku also plays the keyboard and has worked with some of Jamaica's top reggae stars, including The Skatalites, The Pioneers, Alton Ellis, Derrick Morgan, Prince Buster, Ken Boothe, Max Romeo, Big Youth, Dennis Alcapone, Little Roy, Winston Francis and Roy Shirley. Nowadays she plays with UK bands like Ska Cubano, the Trojans and the Topcats.
/// DJ NICK MANASSEH
Manasseh has occupied a vibrant space in the worldwide reggae music community for 25 years. A sound system built by a group of school friends for Notting Hill Carnival in '85, the Manasseh crew played reggae with roots - missing from the scene at that time. The legendary Manasseh late-night dub show occupied a slot on Kiss FM from '87-'90, and Nick has been selecting from his distinctive collection of music for broadcast and the dance ever since.
As a producer, Nick records and mixes music for artists all over the world at his studio - 'The Yard', in Ladbroke Grove. Manasseh is widely credited for pioneering the 'UK Steppers' genre with Sound Iration's 'Seventh Seal' in '88 and has gone on to release records on Acid Jazz, Riz Records, and Roots Garden records - a label Nick co-founded in 2004 and which most recently released the the critically acclaimed 'Manasseh Meets Praise' LP.
The new 'Soul Revivers' collaboration with David Hill sees Nick back on Acid Jazz Records. The debut single from the project - 'Harder' featuring Ernest Ranglin, has received support from David Rodigan and Gilles Peterson on BBC Radio 6 Music & 1xtra. Soul Revivers now take up a bi-monthly radio show on Worldwide FM.
———–Venue————
Fox and Firkin
316 Lewisham High St, London SE13 6JZ
Super Sound System + Stonebaked Pizzas + Huge Heated Secret Garden
Level access throughout, accessible bathroom, the garden has some multi levels to navigate. If you require any further information, requirements or assistance, our friendly staff are here to make your experience fully inclusive. Feel free to call us on 020 8690 0969 or pop us an email via info@foxfirkin.com.
Getting here;
Closest train station: Ladywell (5 min walk) or Lewisham (15 min walk or 5 min bus)