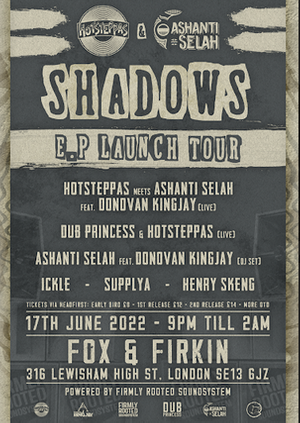 Hotsteppas meets Ashanti Selah 'Shadows' EP Launch + Dub Princess, Donovan Kingjay
17th Jun 2022 8pm - 3am
Add to Calendar
Event Details
The Hotsteppas meets Ashanti Selah 'Shadows' EP is the coming together of two musical entities from Bristol & London.
The EP was born after a collaborative writing session with Ben Ashanti Selah in the Hotsteppa studio last October, we have been slowly putting the release together ever since. The EP features Vocals from Dub Princess & Dehvan Othieno.
The launch party will showcase the tunes we have created as well collaborations and original material from Hotsteppas, Ashanti Selah, Dub Princess, and Donovan Kingjay all performed live by Hotsteppas.
Ashanti Selah – Musician / Dub Producer, is the eldest son of the world-renowned soundman, Aba Shanti-I. As well as working on his own productions – Ashanti has had the pleasure of working with a number of great singers, musicians & producers in the scene- such as; Vivian Jones, Mad Professor, Joe Ariwa, Ras Divarius, Alpha Steppa, Dan I Locks, Junior Roy, Ras Teo...
"Keeping the Roots & Culture fire burning bright, Ashanti Selah is set to play a crucial role in the future of conscious sound system music".
Ashanti Selah will be joining Hotsteppas live on stage on the keys and vocals.
Donovan Kingjay's haunting vocals have been nicing up dances around the world for many years and is a go-to singer for some of the UK's top sound systems. It's a pleasure to welcome him to Bristol to perform some collaborations as well as his own material.
Hailing from Bristol, Hotsteppas is an energetic 8 piece roots reggae band driven and founded by Bassist Fergal Harper.
From the far North of England, Dub Princess has adventured on an odyssey of musical creation and expression for the world, through street busking and internet notoriety.
She has started collaborating with Hotsteppas adding her original songs, as well as our new collaborations to the set.
Dub Princess & Hotsteppas have worked with a number of high-profile artists such as Chali 2na, Prince Jamo, Blackout JA, and Dub FX & Many more.
Henry Skeng: Up & coming DJ & Producer hailing from the Channel One family, apprentice at Conscious Sounds studios with releases on Jah Militant records & Shere khan records.
Powered by Hotsteppa family Firmly Rooted Soundsystem, they will ensure that the music is ROARING all night. Firmly Rooted Soundsystem officially started in 2018 with the desire to provide authentic soundsystem vibes to the next generation through powering all music that has its origins in the roots of soundsystem culture.
Also Joined by Firmly Rooted DJs:
Ickle
Supplya
£8 Early Birds/ £10 First release/ £14 Second Release/ More OTD
———–Venue————
Fox and Firkin
316 Lewisham High St, London SE13 6JZ
Super Sound System + Stonebaked Pizzas + The Biggest, Best and Most Beautiful Secret Garden in London
Level access throughout, accessible bathroom, the garden has some multi levels to navigate. If you require any further information, requirements or assistance, our friendly staff are here to make your experience fully inclusive. Feel free to call us on 020 8690 0969 or pop us an email via info@foxfirkin.com.
Getting here;
Closest train station: Ladywell (5 min walk) or Lewisham (15 min walk or 5 min bus)