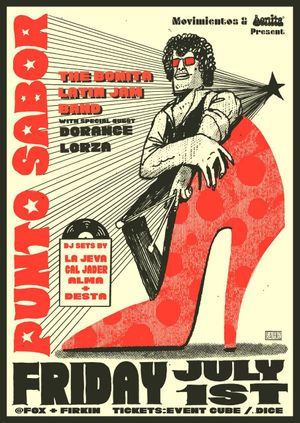 Movimientos & Bonita presents PUNTO SABOR
1st Jul 2022 7pm - 3am
Add to Calendar
Event Details
Punto Sabor is back!
After rocking the joint with the first two sessions Movimientos & Bonita join forces once again bringing you strictly good vibes and London-Latinx musical power to the heart of South East London at the amazing Fox & Firkin with a jam packed line-up with live music and DJs.
The Bonita Latin Jam Band are joined by special guest Dorance Lorza who brings his legendary 'Salsa con vibes' - he's worked with some of the the top names in Colombian Salsa and we can't wait to add this extra 'sabor' to the session.
On the decks we also welcome DJ & musicologist La JeVa - musicologist & DJ from Puerto Rico with some classic & contemporary Latin American sounds from her home country, the Caribbean and its diaspora. Alongside DJ sets from Bonita's Desta & Alma as well as Movimientos' Cal Jader & guests.
As per usual for the second part of the live set The Bonita Latin Jam Band will open up the stage for some special guests to join in for a heavy jam session with some serious vibes going down. AND to celebrate the summer season we will be opening up early outside with DJs from 7pm-9pm to kick off the party.
LINE UP
Punto Sabor - The Bonita Latin Jam Band (live)
+ special guest Dorance Lorza
DJs
La JeVa
Alma
Desta
Cal Jader