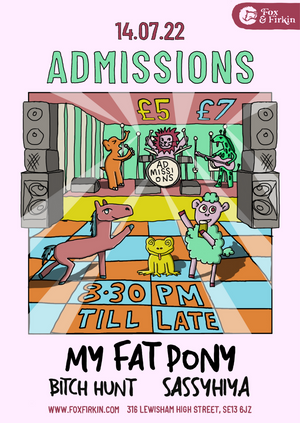 ADMISSIONS: My Fat Pony // Sassyhiya
14th Jul 2022 8:30pm - 11:30pm
Add to Calendar
Event Details
ADMISSIONS presents...
My Fat Pony
My Fat Pony (MFP) are a burgeoning new band from London combining spine ripping garage riffs, fuzzy guitars and mariachi style brass. Akin to Neutral Milk Hotel, The Go! Team and Guided By Voices they are loud, tight and lacking spite.
Even though the band is only in its infancy they have played across the country, supporring Do Nothing, opening Fair Play Festival to headlining shows in Manchester.
Garnering the respect and interest of label Do Your Best, who now manage them as they head to the studio to record their first tracks with Nile Marr (Hanz Zimmer, Man Made, Nation of Language).
Bitch Hunt - have unfortunately had to pull out of this show!
Sassyhiya
Sassyhiya are Kathy Wright and Helen Skinner, real-life as well as musical partners, from cult South London LGBT band Barry.
Though Helen's bass playing may be familiar to you from previously playing in Boys Forever and Basic Plumbing (much missed Veronica Falls musician Patrick Doyle's final projects).
Venturing out on their own the band released an EP in January (Gum demos) written, played, recorded, and mixed themselves at home in Peckham over lockdown.
Now a full live band, Helen and Kathy are joined by Pablo Paganotto on drums and Neiloy Mookherjee on guitar.
Sassyhiya have already gained a reputation as a band to watch out for, most recently making the folk of the Windmill dance their socks off while supporting Fat White Family's Brian Destiny.
Praise for Gum demos:
"This is genius lo-fi indie pop." Beats to the Bar
"irresistible; a supercool slice of wonky post-punk", "a must-listen for fans of The Raincoats, Shop Assistants, Delta 5 and Shopping ", "a modern, post-punk classic" Get in her ears
"my favourite track I've heard all week" Hello Goodbye Show Resonance FM
"fckn ace" Mr Ben (Mr Ben and the Bens)
£5 adv / £7 OTD
18+