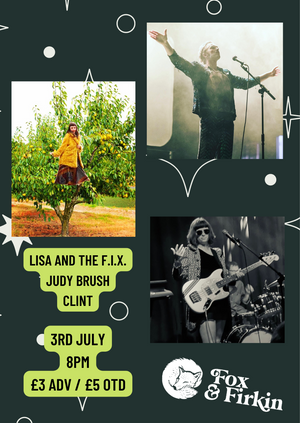 LISA AND THE F.I.X. // JUDY BRUSH // CLINT
3rd Jul 2022 8pm - 11pm
Add to Calendar
Event Details
LISA AND THE F.I.X.
Lisa and the F.I.X. is an unexpected and powerful pop artist, based in Rotterdam. Known for weaving her delicate music together with poetry and spoken-word, Lisa and the F.I.X. is the alter-ego of the hyper-productive composer Luke Deane (UK, 1990). She is joined by Netherlands based improviser/composers Uldis Vītols (Bass/Electronics) and Andreas Kühne (Drums/Electronics). Together they create an utterly unique sound, from granular synthesis through pounding bass-infused punk. The band bring Lisa and the F.I.X.'s transparent lyrics a rough and emotive edge.
https://music.apple.com/.../lisa-and-the-f-i-x/1607125692...
JUDY BRUSH
Judy Brush is a new alter-ego from Birmingham-based Anna Palmer (founder of Dorcha). Anna is a genre-fluid, dynamic, versatile artist with a refusenik attitude. Her music transports listeners to a pool of shifting, psychedelic experimental song-writing. Praised by the likes of BBC Radio 6's Stuart Maconie on the Freak Zone, 2017 saw further progression in Dorcha's recognition, with a live performance on BBC Radio 3 Late Junction, appearances at Flatpack Film Festival, Supernormal, Supersonic Festival and more. 2018 saw the band's first UK tour supported by PRSF Women Make Music in promotion of the new single 'Bruiser' released on Box Records.
CLINT
Former TV personality and singer. Not related to Mike. Retired in Reno. Clint is the alter-ego of composer and artist James Oldham. Blurring the boundary between host and star, Clint will give a short guest set, which we are all very excited about.
TICKETS:
£3 ADV / £5 OTD
No one is turned away for lack of funds.