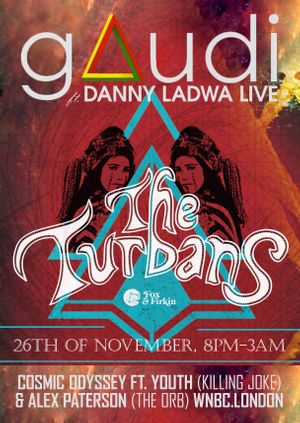 GAUDI LIVE ft. MC Danny Ladwa, THE TURBANS, Cosmic Odyssey ft. YOUTH (Killing Joke) & ALEX PATERSON (The Orbs)
26th Nov 2022 8pm - 3am
Add to Calendar
Event Details
Global favourite in the dub, psychedelic and reggae scenes, solo artist and producer GAUDI comes to The Fox with this "bass-infectious" unique sound! A special LIVE performance featuring beatboxer/vocalist Danny Ladwa with whom he toured the World multiple times. Multi-instrumentalist, producer and remixer of note, Gaudi's credentials include name acts such as: Steel Pulse, Groove Armada, Lee "Scratch" Perry, Horace Andy, The Orb, Deep Forest, African Head Charge, Mad Professor, Simple Minds, Lamb, Don Letts, Youth, Brian Ferry, Sizzla, Michael Rose, Capleton, Nusrat Fateh Ali Khan, Dub FX, Hollie Cook, Scientist, Dreadzone, Shpongle, Dub Pistols to name but a few.
The turbans will bind together musics from 'manywhere' with their interstellar live show which ignites the crowd. Sonically huge and visually arresting, they are a powerhouse of talent, bringing their vibrant and unique sound to audiences who can do nothing more than smile, dance and shout for joy. Their international performers bring together a myriad of musical traditions and styles into a dance-all-nigh-long show!
And Cosmic Odyssey, a show featuring Alex paterson (The Orb) and Youth! Youth, a with a long history of exploring, producing and making dub and ambient music, and the driving force behind ambient house pioneers The Orb, Alex Paterson, will give us a taste of their new project WNBC.LONDON.