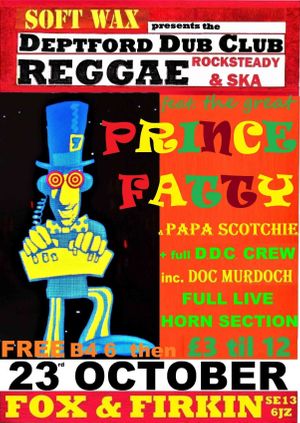 Deptford Dub Club: Prince Fatty
23rd Oct 2022 6pm - 12am
Add to Calendar
Event Details
On Sunday the 23rd October, The Deptford Dub Club will host the Prince Fatty Special, at the Fox. Prince Fatty is probably best known for his production work with an exceptionally wide range of cutting edge artists. However The Prince has also been an accomplished Reggae selector since long time. He has played and made records with the best of them, including reggae luminaries: Gregory Isaacs, Little Roy, Luciano, Winston Francis, Dub Syndicate, Dennis Alcapone and Hollie Cook.
Prince Fatty has a massive collection to select from, does it with aplomb and is supported by hand picked crew. Prince Mike always plays up a storm and we expect him to be accompanied by the great Horseman and chanteuse Shneice McMenamin. Fatty's a great friend of the D.D.C. and we are looking forward to his inimitable, crowd pleasing, connoisseurship.
In addition to our guest star, all of the usual D.D.C. massive will be along for this one. We are thrilled that early on we'll be introducing, up and coming, young lion Sugar Downbeat, selecting for us for the first time. Resident Soft Wax will also be spinning on the wheels of steel, with a fresh selection. He'll joined by the mighty Doc Murdoch, our resident Singjay, live and direct. They'll be joined by our great, 4 piece, house horn section, led by Tom Mossop. Plus, the prodigious Prince Fatty will be mixing live on the desk, when he's not actually selecting, ensuring a full and rich sound from the mighty rig.
Rocksteady will be playing all afternoon, in the glorious garden, at The Fox. We'll be stoking up the new set inside from 6 ( this will be piped out into the garden too.) It's free until 6 and £3 thereafter. Please note that all our regular Sunday sessions now continue until at least 12. Come on down, put on your dancing shoes and surrender to the rhythm!