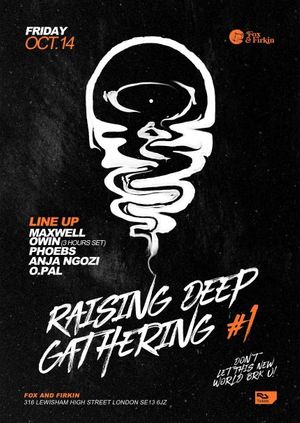 RAISING DEEP GATHERING #1
14th Oct 2022 8pm - 3am
Add to Calendar
Event Details
Maxwell Owin brings his new label down to his local with the first Raising Deep Gathering.
Extended set from Maxwell Owin - 3 hours - alongside label roster, with live bars from Phoebs, and DJ sets from:
Anja Ngozi, whose eclectic sets centre around soulful tunes, lo-fi beats and experimental waves.
Oliver Palfreyman, producer & beat maker, will bring us a DJ set with additional live electronics.
Phoebs & Maxwell Owin - Come With The Ragga