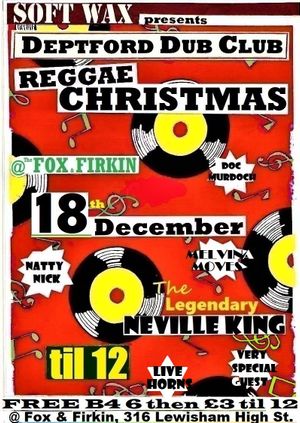 Deptford Dub Club
18th Dec 2022 6pm - 12am
Add to Calendar
Event Details
The Deptford Dub Club, will be seeing in the festive season in reggaematic, Soundsystem style.
On this night we'll be spinnin' classic, vintage music of Jamaican origin, from Ska, Rocksteady and deep roots Reggae stretchin' right through to, as yet unreleased, modern exclusives.
‍
This Xmas Special promises to be an historic occasion, as it features the legendary Neville King on the wheels of steel.
The renowned producer was born in St James, Jamaica. Neville's Soundsystem had long residencies in Brixton, Tooting, Peckham and Streatham during the 1970s. During those times he was a mentor to Blacker Dread, Levi Roots and David Rodigan. Neville King launched his own label in London in 1976 and quickly struck gold. He issued exceptional roots material by Prince Lincoln and the Royal Rasses and Jacob Miller. Neville also released his own lover's rock productions. His works, on the King and City label, by local heroes One Blood are particularly sought after; "Be Thankful" having assumed classic status. A great friend of the D.D.C., Mr. King's work holds a special place for us.
‍
Our Christmas shows together have become a favourite fixture in the calendar so all of the usual D.D.C. massive will be along for this one.
They'll be joined by an extra special guest whose identity we've pledged to remain shtum about.
Also earlyish, Club stalwart Natty Nick will be stepping up to grace the decks; expect a carefully chosen selection of classic Ska, Rocksteady and early Reggae.
‍
We're delighted that they'll be followed by Club stalwart DJ Melvina Moves.
Melvina is a well-established figure on the London reggae scene. The vibrant Melvina is the fulcrum of the AfroUtopia sessions and has DJed at nights across town at venues like The Ritzy. She has appeared at the Windrush Festival and as far afield as Guyana. She can be relied upon for a scintillating Reggae Revive set, presented with style.
Our Resident Soft Wax will be spinning on the wheels of steel too. He'll be accompanied by our usual live instrumental and vocal stylists.
Expect our resident Singjay, the mighty Doc Murdoch and chanteuse Sandeva, with other vocalists live and direct.
Also on the mic. will be instrumentalists, featuring a fresh new crew.
An enhanced sound system, engineered by the great Prince Fatty, is a feature of this popular night, held in a convivial boozer.
‍
The palatial, discrete garden will feature Rocksteady all afternoon and have the evening session piped out to it. Put on your dancing shoes, come on down and get your mojo working early for Christmas.