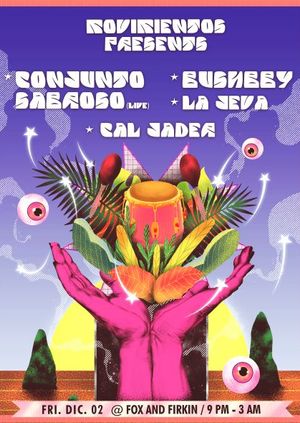 Movimientos: Conjunto Sabroso (live) Bushbby La Jeva Cal Jader
2nd Dec 2022 8pm - 3am
Add to Calendar
Event Details
We are back at the Fox & Firkin for a big night of Latin sounds hosting one of the UK's longest running & finest Latin outfits Conjunto Sabroso to keep you moving into the night with their delectable tropical rhythms. Alongside them we also welcome the mighty Bushbby who's been on fire in 2022 setting off dancefloor with her inimitable Colombian / Caribbean soundsystem inspired take on contemporary Latin sounds as well as DJ & musicologist from Puerto Rico La JeVa - with some classic & contemporary Latin American sounds from her home country, the Caribbean and its diaspora.
Conjunto Sabroso:
We welcome one of London's longest running, most established, finest Latin outfits to keep you moving with their delectable rhythms long into the night. Led by their vibrant horn section and unrelenting percussion section, Conjunto Sabroso are an international band in every sense of the word. Featuring incredible musicians from Venezuela, Colombia and the UK, they have taken their enticing brand of salsa all over the world, performing at festivals from China to Kenya, as well as touring with some giants of the salsa world, such as Adalberto Santiago from the legendary Fania All Stars. They arrive at the Fox & Firkin to bring you a night of insatiable salsa fire.
DJ Bushbby
Without a doubt one of the UKs elite Latin American music savants, Bushbby explores the roots of the music whilst celebrating cutting-edge contemporary Latin sounds. As a British-Colombian they are also heavily inspired by the Caribbean and soundsystem culture in and around both Barranquilla, Colombia and the UK. As a staunch advocate of Latinx people and music, Bushbby set up Candela Viva, through which they run regular events and a bi-monthly radio show which both showcase the beauty and vitality of Latinx culture and music. With credentials like these, there are few better selectas around to celebrate Latinx music with than Bushbby.
La Jeva
A preservationist, musicologist, singer, DJ - La Jeva does it all. Through her work she advocates for the preservation, creation and promotion of Puerto Rican, Latin American and Caribbean music and artists. Driven by this pursuit, she has worked for non-profit musical ensembles back in her native Puerto Rico, to educate people on the Afro-Caribbean roots of the music of the island. Having also performed on stage with bonafide salsa royalty - Willie Colon, La Jeva is an impassioned DJ with an already storied career. You'll be treated to their curated blend of contemporary and classic Latin American rhythms.
Cal Jader
Cal Jader brings a unique mix of Latinx music from across the Latin American continent, the diaspora plus international sounds inspired by the region. The show takes in a wide spectrum of the freshest tropical dance floor heat from Afro-Latin beats, Carnival flavours, Hip Hop, Cumbia & Dembow to downtempo Electronica, and explorations of Digital-Folklore and beyond. Cal Jader is one of the musical activists behind London Latin cultural protagonists Movimientos and co-host of one of London's finest tropical / global bass parties Love Carnival. With his trademark blend of latin beats, carnival rhythms and fresh global sounds he is helping to soundtrack London's underground music scene with regular sets across the capital, as well as around the UK and Europe.