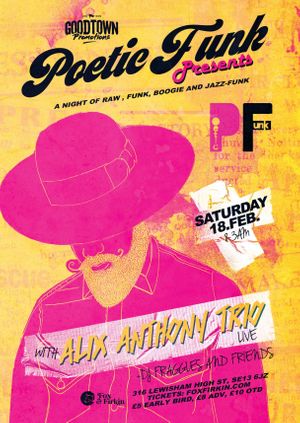 Poetic Funk Presents Alix Anthony Trio
18th Feb 2023 8pm - 3am
Add to Calendar
Event Details
Poetic funk are specialist in the field of funk boogie and Jazz funk with an sprinkle of Jazz fusion.
Now they are also adding in the mix an amazing live band called Alix Anthony Trio!
Originally from New York and then moving to Canada Alix Anthony was discovered by George Clinton and joined the P Funk Allstars to great acclaim.
George liked to get funky with Alix in Toronto's 606 club. Overseas tours included clubs and stadiums in Canada, Hong Kong, Belgium, Holland and France. In Dubai his own band Unkle Jam, played at major function venues for 5 years including the Hard Rock Cafe. Alix has backed Dennis Edwards and The Temptations on the same billing as the James Brown Band for George Bush's inauguration celebration concert. Also was a member of Prince Charles and the stone city band!