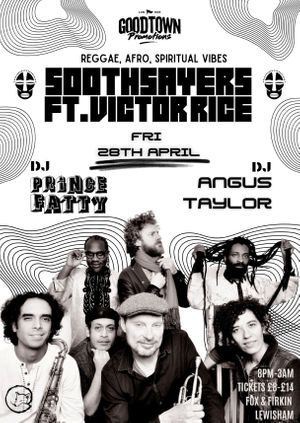 Soothsayers ft. Victor Rice
28th Apr 2023 8pm - 3am
Add to Calendar
Event Details
Soothsayers! Truly one of the great live bands of south london, an afro, dub, reggae shebeen, London's finest and festival favourites!
And its taken us only 15 years to get the to the Fox but the wait will be worth it. Plus very special guest, featured on their latest album, all the way from São Paulo Brazil
Victor Rice
!
With 11 albums and 22 singles under their belt and literally hundreds of festival appearances around the world this going to be a big night.
Their heady mix of afro beat, dub reggae and spiritual vibes is very special.