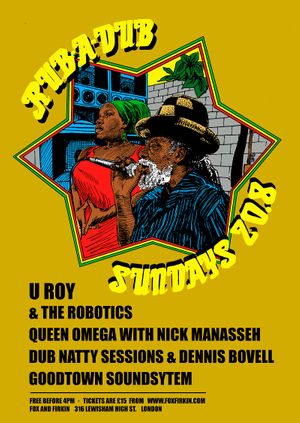 Ruba dub Sunday with U_Roy and Queen Omega
20th Aug 2017 1pm - 1am
Add to Calendar
2017-08-20 13:00:00
2017-08-21 01:00:00
Europe/London
Ruba dub Sunday with U_Roy and Queen Omega
*Ready Fox Reggae presents another installment of Rub'a'Dub Sunday with its soundsytem poolside vibes to the live reggae sounds and DJs.Inside:♬♬U Roy and the robotics♬♬♬♬Queen Omega with Nick Manasseh♬♬♬♬Dub Natty sessions and Dennis bovell ♬♬♬♬Goodtown Soundsytem♬♬Paddling pool, Cocktail bar, BBQ STALLS:★ Rare records Sta'Kulchawww.facebook.com/stakulchamusicdistribution www.stakulcha.com ★ Uptown Rockers Hatshttp://rockersuptownhats.blogspot.co.uk/RUM PUNCH DEALS:★ Special Rum Punch £5 a glassFOOD:★BBQ JERK CHICKENBy Cummin'up ★ The Fox & Firkin Pizzas by our Italian chef TonySo if you are a soundsystem enthusiast or a live music fan we've got it all covered! This month the all day Sunday sessions will be running from 2pm-midnight. During the daytime families are welcome as the Fox and Firkin has the largest garden in south London!ENTRY / TICKET INFO - Please read!*£15 advance tickets available, see link above*£20 non the doorKids and family are in for free, Kids are allowed until 8pmEveryone need a wristband for the live show laterTwitter: @FoxFirkinInstagram: @foxandfirkin316 Lewisham High St, SE13 6JZwww.foxfirkin.comKid Friendly https://foxandfirkin.eventcube.io/events/8185/ruba-dub-sunday-with-u-roy-and-queen-omega
Fox and Firkin, 316 Lewisham High Street, London, SE13 6JZ
Event Details
*
Ready Fox Reggae presents another installment of Rub'a'Dub Sunday with its soundsytem poolside vibes to the live reggae sounds and DJs.
♬♬U Roy and the robotics♬♬
♬♬Queen Omega with Nick Manasseh♬♬
♬♬Dub Natty sessions and Dennis bovell ♬♬
Paddling pool, Cocktail bar, BBQ
★ Rare records Sta'Kulcha
www.facebook.com/stakulchamusicdistribution
http://rockersuptownhats.blogspot.co.uk/
★ Special Rum Punch £5 a glass
★ The Fox & Firkin Pizzas by our Italian chef Tony
So if you are a soundsystem enthusiast or a live music fan we've got it all covered!
This month the all day Sunday sessions will be running from 2pm-midnight. During the daytime families are welcome as the Fox and Firkin has the largest garden in south London!
ENTRY / TICKET INFO - Please read!
*£15 advance tickets available, see link above
Kids and family are in for free, Kids are allowed until 8pm
Everyone need a wristband for the live show later
316 Lewisham High St, SE13 6JZ